Shadow Souls by LJ Smith
10:16 AM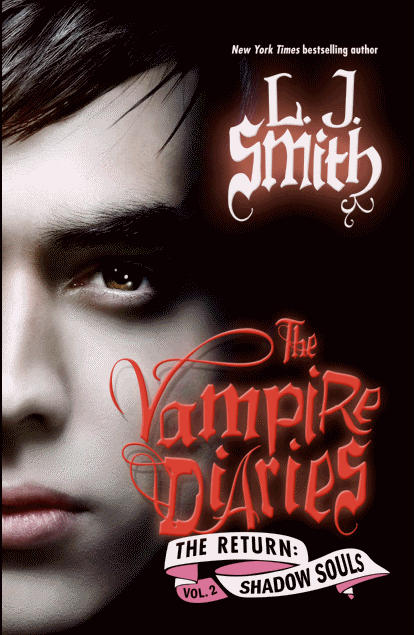 Title:
Shadow Souls
Author:
LJ Smith
Publisher:
Harper Teen
Release:
March 1, 2010
Rating:
4/5
Pages:
599
Series:
Vampire Diaries: The Return #1
Synopsis:
On the run . . .
Elena Gilbert's love, the vampire Stefan Salvatore, has been captured and imprisoned by demonic spirits who are wreaking havoc in Fell's Church. While her friends Bonnie and Meredith explore the evil that has taken over their town, Elena goes in search of Stefan.
In order to find him, she entrusts her life to Stefan's brother, Damon Salvatore, the handsome but deadly vampire who wants Elena, body and soul. Along with her childhood friend Matt, they set out for the slums of the Dark Dimension, where Stefan is being held captive. It is rumored to be a world where vampires and demons roam free, but humans must live enslaved to their supernatural masters. . . .
Elena will stop at nothing to free Stefan. Yet with each passing day the tension between Elena and Damon grows, and she is faced with a terrible decision: Which brother does she really want?
Back in Fell's Church, Bonnie and Meredith have made some dire discoveries. They hastily try to follow Elena and warn her—only to be caught up in Elena's most dangerous adventure yet.
Review:
I got this book only a little while ago, aka a really unusual amount of time after it's release date for me. Usually when a book comes out, I'll have it in the first month at least, but this one I had it several months later. So when I finally got it I read it for a while but then got to a slow part and put it down for a while. After I read a few other books, I got back to Shadow Souls and I then got to where I was 42 pages from the end and stopped again for like three weeks. Then I eventually finished the last 42 pages and here we are.
Now for me, this book is actually somewhere in between a 3.5 and a 4/5 for me. The reasons for my feelings on shadow souls is this: the writing and story telling. Now don't get me wrong! It wasn't horrible or anything, my problems with the writing and the storytelling is that they feel so different from how LJ usually writes. The style in this book is just not my taste as it's very odd. I have no specific example of it, but I just didn't particularly enjoy the writing style in this book. Though it might have something to do with the fact that I'm just so used to the differences in the TV show vs. the books that I tend to like the TV show better than the books. The story was just a little odd in this book as she jumps from kitsunes to vampires to demons and such. Though I do enjoy a little variety in creatures, all the different ones used in Shadow Souls were an odd mash-up that took me a while to digest, but once I had gotten used to the idea, it wasn't that bad.
The way I now picture the characters of The Vampire Diaries books now utterly revolves around who plays who in the TV series. When I read Damon, I picture Ian Somerhalder. When I read Elena, I see Nina Dobrev even though LJ was very clear that Elena was actually blond. Oh well. But the characters I have found that they have stayed steady throughout all the books in the series. The traits in the characters have progressed and grown but the bases stay the same. And what I mean by that is they didn't become totally different characters throughout all the books which was nice.
The covers of the Vampire Diaries books, for me, are kind of bland. I mean don't get me wrong, they're not all that bad either, but they just don't jump out at me. When I walk into a bookstore or if I'm shopping online, the book I always reach for first is the one with the beautiful, lively, crazy or just plain cool cover. That's my opinion, and I don't know whether other people are like me, but that's how I feel.
Overall, this book did win me over in the end I now I can't wait to read the conclusion to The Return Trilogy and later yet, the new series as well (the new Vampire Diaries Series that LJ just announced).