VOTE FOR ADRIAN'S ROUND TWO!
9:15 PM
It's that time again, time to kick butt and take names in the YA Crush Tourney for #TeamAdrian. CLICK HERE to vote for him (the poll is at the bottom of the post!). Tell your friends, tweet, vote, make Goodreads posts about it, change your profile pictures to the button below, DO ANYTHING! This is some stiff competition we're facing, so please VOTE VOTE VOTE!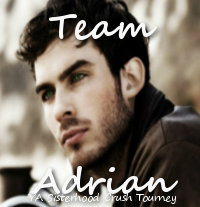 PS: If Adrian makes it to the next round, I will hold a giveaway in celebration!