A Massive Thank You: Adrian Won!
2:01 PM
Well, we did it! ADRIAN WON! Can you hear the choruses of 'We Are the Champions' in the background? It was a long, hard battle full of tough competitors, but in the end, he came out on top. I cannot thank everyone involved enough, but I'm going to try to thank those who really helped Adrian out on his path to victory.


To start off I need to thank Jennifer from Some Like it Paranormal and Monica from Cover Analysis for being an amazing part of Team Adrian. They tweeted and promoted him like crazy, and without them I'm sure I would have lost my sanity in an early round. To add to their promoting, they also reviewed my advocating defense and helped add a ton of stuff to it. In all seriousness, I have no clue what I would have done without them.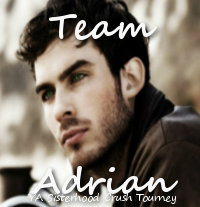 Next, I'd like to thank everyone who voted and promoted. In the final round there was over 23000 votes in total, with a 28 vote lead for Adrian in the end (that was the last I saw it at). That is insane! I saw posts on Twitter, Facebook, Tumblr and blogs; I'd like to thank everyone who used their profiles and sites as mediums to promote Team Adrian.
Thank you to the lovely ladies at the YA Sisterhood for hosting the tournament for it's second year. I had a blast advocating and they did an amazing job hosting. They were super friendly and always had reminders sent before every match (thanks to Rachel at Fiktshun for sending those reminders!).
In all the insanity, fun and hype that surrounded the Tournament, I really hope that we convinced a few people to give Richelle Mead's, and all the author's books, a try- they truly are wonderful. This was my second year as an advocate and I could not ask for a better outcome of the tournament. I hope people will be inspired to go pick up the books featured in the Tourney, I know I need to get a few! I also know I've missed a ton of people, but these are just the ones I can think of off the top of my head.
Finally:

THANK YOU!
PS: I know I promised a giveaway, and I will do one soon. Please be patient with me, it should happen within the next two weeks!